žThere is no age limit for registration.
žYour privacy is strictly protected.
žFor details, please see [ Handling of Personal Information ].


1. On-line Registration

.

NO FEES for registrants. We only charge recruiting companies, thus registrants do not pay any fee.

2. Career Consulting

.

We hold a personal consulting to fully understand each registrant's requests on his/her career and life plan to find just the right place to work.



3. Propose just the right place for you to work

.

We will make a proposal of a job that you request, and then proceed to the next selection process such as an interview with the employer.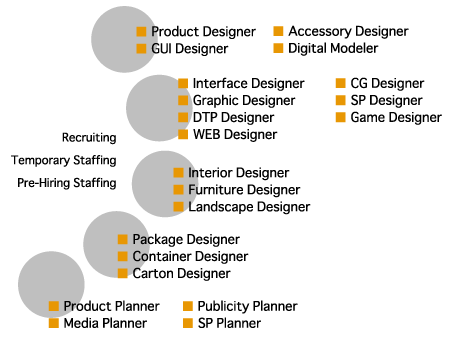 What is the important tool for a designer's job transfer?

It is a "Career Record".
Prepare your career record in chronicle order with major pieces of your work from portfolios. Arrange them neatly for an effective presentation. It is the best tool to introduce your skills and abilities not only to the person in charge of the design department but also to the person in the personnel section of a company. If you have your homepage web site, it can be an impactful presentation tool provided that the contents are well designed.
See our special blog [How to write an effective Career Record].

.


Do I need to have a considerable work experience for a job transfer?

It's true that the lack of enough experience in the field can be a disadvantage for a successful transfer. However there are many cases that take your other abilities into consideration for employment, so please register first and have a consultation with us.

.


Are there any job openings in other cities than Tokyo?

So called U-turn, I-turn recruitments (job opportunities in one's hometown or newly settled locations) are increasing and our consultants give consideration to your location requests.

.


How much fees do I have to pay?

Free of charge.
Free registration, free consultations. After successful recruitment, we only charge the recruiting company for the bill. So please feel free to come see us.